Our Values
Through Christian values we nurture our children to be caring, responsible global citizens.
We ensure that all our children are successful and fulfil their potential through high quality teaching.
We develop independent and confident learners through engaging and challenging opportunities.
We provide a rich and varied curriculum that enables our children to flourish and excel.
We build strong relationships with the children, their families and the local community.
Adults and children work together creating a warm family community where everyone can flourish and achieve their true potential. We celebrate the fact that everyone is unique and take great pride in our diverse heritage.
 'St Anne's recognises that all children are different,' 'teachers listen to children and understand what we are saying.' Year 6 pupil
Our Vision
St Anne's vision is for our children to be independent, motivated, and confident learners who aspire to achieve their full potential within our friendly Christian school community.
Through Christian values we nurture our children to be caring, responsible global citizens
We focus on a value each month over a two year cycle. The meaning of each value is explored during collective worship and followed up in the classroom. The whole school community reflect on how each value relates to their everyday lives.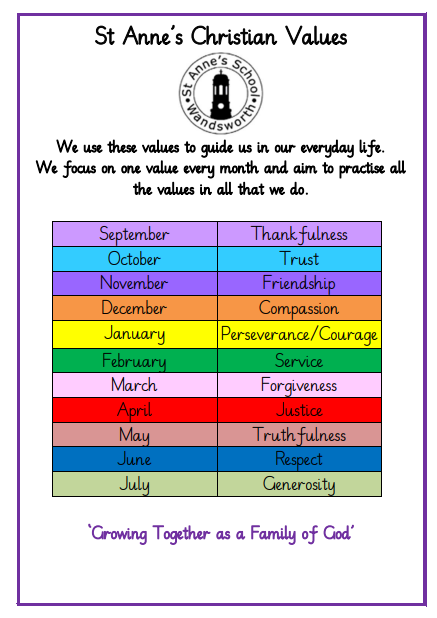 Ofsted's View
"The school has a set of shared values which underpin everything from daily classroom plans to senior leadership decisions. This ensures that the provision for promoting pupils' spiritual, moral, social and cultural skills is very strong.…"
Ofsted
 We have high expectations of behaviour. Through Christian values the children develop their ability to reflect, empathise and value each other.  We all pride ourselves in being good role models for others.  Our golden rule is taken from Matthew, chapter 7 Verse 12. 'Do unto others as you would have others do unto you'.
'Teachers never let behaviours slip…they help us to be one big family.' Year 4 pupil
 The children are happy and behave in a calm manner. They display a positive attitude towards their learning and strive to support each other to achieve their best.  They develop life long qualities such as being responsible, resourceful and resilient.
 'I like the fact that teachers trust us with big responsibilities'. Year 6 pupil
 'Teachers have high expectations in terms of progress and behaviour' (Ofsted)
 'Pupils behave well and are particularly courteous.' Ofsted
 'Playtimes are calm and enjoyable.' Ofsted
 We build strong relationships with the children, their families and the local community
 St Anne's School is at the heart of the community and we are proud of our diverse and vibrant community. We are an inclusive school where all are welcome.
We believe that parents are the first and most important teachers of their children and so we want to develop a close partnership from the outset.
We want your child to be happy at our school and we want you to be involved in your child's education because schools are most successful when parents and teachers work together. We will do all we can to keep you informed of your child's progress and development at school. You will also be encouraged to attend open evenings, accompany classes on outings and help with class activities.
Parent comment: 'This is the best school I could have ever dreamed of, it's home to me.'
Through a wide range of opportunities our children develop a strong sense of responsibility towards our local and global community. Activities include: taking on responsibilities within the school community, exploring and understanding how to care for our environment, collaborating with neighbouring schools, supporting the local elderly people within the community, communicating and sharing experiences with our link school in New Delhi, India, and taking part in an annual United Nations General Assembly, where pupils debate global issues with other schools.
 What children say about St Anne's School:
 'We are all a family and kind'. Year 4
 'There are people with different regions and views and we do fun things and learn at the same time.' Year 5