This week, Elm class have been thinking of our value of service. They have though about the soldiers and home front, who served  during WW2 and also all of the people who work to support  Children in Need.
To commemorate Remembrance Day, Elm class created these beautiful paintings. First, they used colour blending skills to create a moonlit background and added a poppy in the middle ground to represent the soldiers, who sacrificed their lives to keep us safe. They then added the Chaconia, which is the national flower of Trinidad. This is to represent the soldiers from the Caribbean islands, who also fought and gave their lives to protect others.
Oliver also decorated a stone with a thoughtful Remembrance tribute. Thank you Oliver.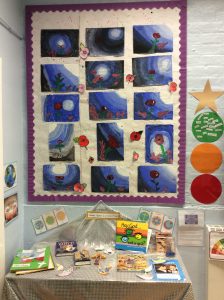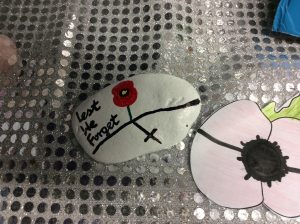 To support local charities, all of the children at St Anne's donated £1 to BBC's 'Children in Need' campaign. The were able to dress up in bright and colourful clothes to celebrate.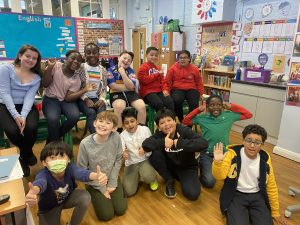 This week, we also held a special collective worship to celebrate Diwali and designed our own Diva lamps to light up our prayer area.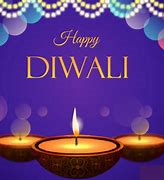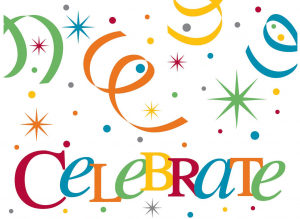 Well done to Youssef and Jackie for receiving merits this week. Youssef has been celebrated for his improved focus and effort in all of his tasks and Jackie has been showing resilience in maths and a positive attitude in all areas of her learning.
Well done to you both!
Rashaun also received a special note home, for his wonderful independent art this week.
I hope you all have a restful weekend.
Miss Thorn 🙂