As part of our close knit family at St Anne's, we are partnered with St Anne's Church which is just metres away from our school!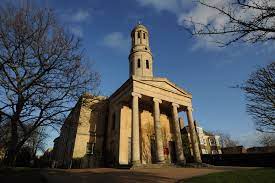 Children from Reception take part in different services held at St Annes Church throughout the year including Easter and Christmas. Holy Communion is also celebrated on several occasions in St Anne's Church. Parents are encouraged to join in all these events in which the children take a full and active part.They will also have opportunities throughout their time at St Annes to visit the church on other occasions as part of our R.E Curriculum.
Father Gordon from St Annes Church is our Chair of Governors at St Annes School. We are lucky enough to have a weekly Collective Worship held by Father Gordon in school.