Another brilliant week in Year 2!
The children have worked incredibly hard and we're getting more into the Christmas spirit with our Nativity rehearsals. Scroll down to find all the songs we'll be singing… try to practise them all at home without the lyrics!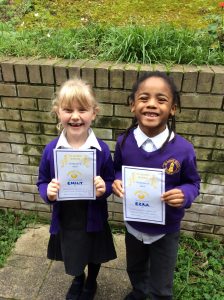 Today's (very smiley!) Merit winners are:
Ezra for throwing himself into this week's learning, showing great independence with his reading and in Maths. Well done SUPERSTAR!
Emily for applying her learning so well in Science. Emily always shows role-model behaviour by listening carefully on the carpet, working hard at her table and helping others. We are so lucky to have her in our class!
Please check your child's book bag for their spellings and a copy of our new nativity script. There is also an important letter about nativity costumes for parents to read.
Have a lovely weekend,
Miss Hallgarten