Hello Olive Class.
Things have started to feel very festive this week (keep helping me spot that mischievous elf and his tricks around our classroom)! The merits this week go to Kali for her amazing work in maths and to Leo for incredible effort in phonics. Well done – we are so proud of you both!
We have started working on our phase 5 sounds in phonics, written our own books about toys in English and have been doing addition in maths. You have worked so hard. In science this half term we have been looking at materials and their properties. This week we completed a practical activity in which we sorted objects by their properties – and even came up with some criteria of our own!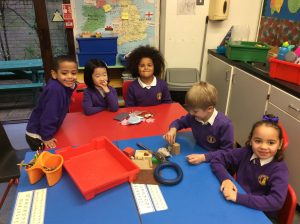 Well done for another fantastic week Olive Class. Have a great weekend – and keep practising your songs for the Nativity.
Miss Gilbey.